Hats off to people of Mumbai, they were flooded, they were beaten up by religious fanatics and now they are being bombed and blasted…but the very next day …he goes to office, she goes to market, kids go to school, granny goes to temple in the same train same route …. Mind blowing attitude guyz….never seen such strong willpower. So whoever did that spinelessness and cowardice act …..You can keep on doing whatever you want to do, but make sure you blast the whole body, if u leave anything behind these people will get back to office the very next day.
This is INDIA buddy, we are not going to sit and mourn and call it black or white day, we are not going to gather every year in the same place and put flowers and cry…..we are not going to put bombs in some innocent place killing all the more innocent people, WE ARE INDIANS AND WE WILL LIVE THE SAME WAY and SHOW THAT YOUR SMALL PIECE OF BOMB IS WORTHLESS TO CHANGE OUR SPIRITS. So go somewhere else and try your luck. Uncle Laden, now I guess you are playing with FIRE, it will hurt you quite badly…MIND IT!!!!!!! (Please be careful of your beard, this fire might burn it off)
Now as I said, let me get back to my normal way of writing, I am not going to mourn and spoil our spirit. Last day I watching world cup football finals, it was nice to see Italy win, as their flag is a bit similar to our Indian Flag ;). Although it was sad to see many of Indians roaming around with flags of different countries painted on their face and hair and where not, I enjoyed watching the game and congrats Italians, especially when you guys were facing lot of scandals and stuff. I liked the head banging of Zidane uncle, poor guy was not getting ball to head, so opted for this.
Even I had gone once to watch football finals, but it was not world cup, it was smaller cup, its called Santhosh Trophy. It's usually played between various States in India. I was studying in school, and luckily this time it was held in a ground very close to my house. I broke my piggybank and got a gallery pass. I was so happy that the finals is between my state KERALA and MAHARASHTRA.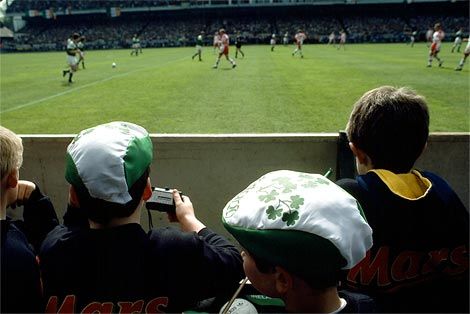 I reached the ground around 2 hrs before the match, as it was jam-packed, I thought I should get the right seat to watch. It was a great feeling to enter the stadium, I could hear drums in various size and sound….could see people dancing, singing, pushing , small fighting, but it was fun all the way. The gallery in which I was sitting was artificial one made of Bamboo, but quite strong. After sometime, here comes the two teams, we started howlinggg shoutingggg , I guess that's the universal way of supporting a team.
Our Kerala team captain was Satyan, then Pappachan (Inspector Papachan, he was working in Kerala police) then there was I M Vijayan ( pele of Kerala) , Goal keeper Chacko etc etc. I don't remember much of Maharashtra players except one Aqil Ansari.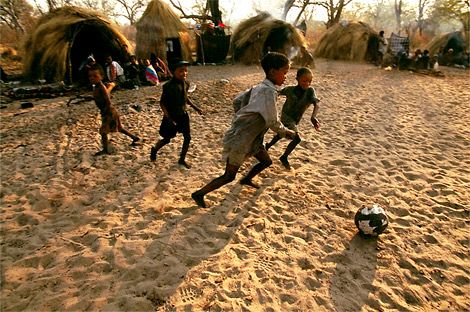 Game started: Maharashtra team were playing like true Marathas, could see the ball going here and there, kerala players were running after the ball, but never got any possession. Crowd was getting angry as their heroes were almost zeros, and here comes the first GOAL….Aqil Ansari dribbles and swingsss and here goes the poor little thing inside the net. The crowd is stunned, as usual goal scorer dances and team mates becomes WWF wrestlers and pounce on that poor guy and make him in such a condition that he will never score a goal again in his life.
Now our team is down by one goal, people as usual started swearing and shouting, and now I understood why players are given so much security. So now our zeros started playing better, heard someone was saying we are like Brazil team, we like to fight back…hihihihihi ok ok that's attitude buddy. But then his words were true, these guys started showing some kinda fighting spirit, now our "poor thing" I mean the ball is always in our hands or legs…whatever.
We get a corner and Inspector papachan shoots and it curves and curves and curves and oops…it is inside the goal post. That's what you call bend it like pappy!!!!! The stadium erupts and I guess you can imagine, the gallery was dancing, everyone was hugging, and howling, crying, damn it that's hell lot of spirit man!!!!! Now it's half time.
Could hear half time statistic from different people. It seems our pappy had scored in the same way in an inter-police match years before when I was not even born. Was curiously listening to them, I asked a small question to our statistician …… " so brother did you watch that match? " answer was very interesting… " no no I just heard from someone who is sitting in the top of the gallery" ….. " ohhh!! Ok"
Here comes our re-born heroes again, this time our "poor thing" is running vigorously and now the game is ON. Could see pretty bad fouls and all the more severe swearing from this part of the world. Kerala gets a free kick kinda near the goal post, David PAPPY Beckham again bend it, this time our pele ( vijayan) is waiting and you wont imagine it was typical bicycle kick and the ball swings and again swings and on the way sings the rhyme " up above the sky so high….twinkle twinkle" well it reached the cricket stadium next to it.
Now the Marathas started dribbling left and right and kicks a small tickle starts inside stomach, but somehow Goalie Chacko dives and saves. Sighhh!!!! What a relief.
Now its Kerala…. pappy dribbles, pass it to Captain Satyan, ball goes from one leg to another, foul and again start going here and reaches Pappy again and he gives a long cross right in the middle and Kerala Pele Strikesss!!!!!!!! It's a GOALLLLLLL, Hurray hurray.
Kerala leads: - 2: 1.
Now our enemies have become real Maratha warriors, ball is always with them, as we have moved defensive. They keep on kicking and swinging, but our Chacko is BRAVO BRAVO…he saves 'n' number of kicks.
Kerala is living dangerously, they are attacking from right and left side. Ansari kicks and oops…. where is Chacko??? And where is the ball, its there inside the net. Mummmyyyyyyyyy nooooooooo !!!!!!!!!!!!!!!!!!!
Score: - 2: 2
Time left: 2 mins.
Kerala attack, Satyan to Vijayan, he passes it to a Sherafali ( new name haha) and he passes it to Kurikesh Mathew ( strange name huh ) , he passes it to Pappy and he passes it to Vijayan (pele), and he dribbles and move to right side and gives a long cross and the ball is swinging and swinging, it curves and here comes a header ….well, I am sorry to say Marathas….it's a GOALLLLLLLLLLLLLLL and guess who scored it.. ya.. its our PAPPPYYYYYYYYYYYYYYYYYYYYY. Stadium erupts, so does the final whistle, here comes a Mexican wave, and all of a sudden I hear a cracking sound and then a DIMMMMMMM, the gallery is down, our poor Bamboo was not enough to hold the Pappy Goal…
Anyway Kerala wins: 3: 2
I went back home bruised, but dancing and howling with full winning spirits. Well that was my first and last football final. I hope now there is no more artificial gallery available.
Saluting Mumbaikars once again and signing off with SALAM BOMBAY and JAII HINDDDDD.